Product Description
ProForm Smart Strider 495 CSE
Specifications
Making time for world travel is a challenge—but it doesn't have to be impossible. Visit Paris, hike the Swiss Alps, or jog the Chilean coast with your iFit® Coach Ready™* elliptical powered by Google Maps™. You can also customize your workouts with unlimited programs designed by certified personal trainers. And our ever-growing workout library offers programs that progress with you from first-time user to daily enthusiast.
*Access iFit® account from computer, tablet, or smartphone. Requires membership, sold separately. Tablet not included. Tablet requires Android 5.0+ with Bluetooth 4.0+. iPad 3 and above with iOS 8+. A minimum of 600dpi screen width.  
Have you ever wondered if your workout is making a difference? With our new Watts LED Display you can watch your power output right on the console with bright LED lights. Based on our power algorithm of watts per kilogram, you can tell instantly if you are in the Endurance, Tempo, or Peak zone.
Endurance is a great area for a slow and steady workout. The Tempo zone places you in your ideal heart rate based on your weight category, and Peak is where you reach your cardio max. And if you are focusing on interval training, press the Work button to kick it in high gear, then press Recover to slow it down.
When you step on the pedals of a ProForm® elliptical, you get instant access to professional training programs fully loaded and ready to go. Now you can enjoy a challenging workout focused on your goals. Just press "Start" and you're off.
Grab ahold of in-the-moment heart rate monitoring. These two hand-grip sensors are conveniently built into the handlebars. In a couple seconds, you'll be able to see your heart rate while you train.
Commercial-Gauge Solid Steel Construction
Made from commercial-gauge solid steel, this machine is built to last.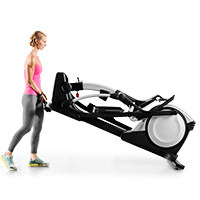 We know you like your house to be clutter-free. So we invented an elliptical that folds up and out of the way when you're done with your workout. It totally rocked the fitness industry; but honestly, we're just glad you don't have to sacrifice your living space for your fitness habit anymore.
Soft Grips Upper-Body Workout Arms
Get a total-body, low-impact workout with upper-body workout arms. Elliptical training engages your entire body with every step.
These large pedals allow you a number of foot positions and provide important stability as you exercise.
Experience a smooth, steady pedal stroke with the flywheel made to perform. A faster gear ratio and effective weight placement deliver a more natural striding experience.
Enjoy long, full strides with this generous 18-inch stride length.
With 18 digital resistance levels, you can start out easy and progress to intense. Each level is smooth, frictionless, and silent with our patented SMR™ Silent Magnetic Resistance.
Make fitness time multi-tasking time. This device shelf keeps your tablet secure and conveniently close so you have access to all your training tools and entertainment must-haves.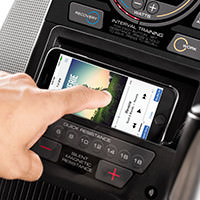 Once you create your raving workout playlist, just plug your iPod® or MP3 player into our built-in sound system. Built with dual 2-inch speakers, you can turn up the tunes and turn up the tempo. Experts have learned that we actually increase or decrease our pace to match the tempo of our tunes. Plus, music has also been proven to lower perceived exertion. That's great news.
*iPod® is a trademark of Apple, Inc., registered in the U.S. and other countries. iPod® not included.
Moving this elliptical out of the way is fast and easy with the rear-mounted wheels.
Stay hydrated throughout your workout by keeping your water bottle close. This convenient water bottle holder is built-in to the elliptical frame for easy access.
When this elliptical is fully assembled, the height by width by depth dimensions are 165 cm x 81 cm  x 203 cm.
This elliptical accommodates up to 125 kg.
Unboxing your brand new ProForm® elliptical is an exciting moment. We wouldn't want to kill the joy with hours of complicated assembly. So we engineered an elliptical that comes fully assembled out of the box. Now you can assemble your elliptical in minutes and get started on your workout. With just a few simple setup steps, your elliptical is out of the box and ready to use in minutes.
Keep your elliptical stable on an uneven surface with these oversized leveling feet.
The ProForm® Smart Strider 495 CSE Elliptical
is protected with a 5-Year Frame Warranty and 2-Year Parts and Labour Warranty. 
Technology
iFit Bluetooth Compatible
ICON Health & Fitness warrants their products to be free from defects in workmanship and material, under normal use and service conditions for a period of 12 months from the date of original purchase for the original owner of the equipment.
Warranty upgrades are available on your ProForm product subject to registering your warranty within 28 days of purchase by either completing and returning the included warranty card or by registering your details here.